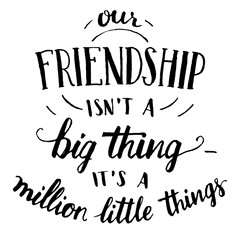 Sometimes, I reach out to friends, just to see how they're doing. Sometimes they're all good. Other times, they vent and they vent and they vent. And... I allow them to. Sometimes I have the right words to say to help them along. Other times, I can only listen. I never say it's too much and I never reject them when they vent to me. My friendship comes with an open door policy.
I've often seen others say that sometimes it's too much for them when they reach out to check on friends and then the friend just lays everything at their feet. Not me. I consider it an honor that my friends feel I'm worthy of such a task. Sometimes, we can't just talk to everybody. So when that one person reaches out to us, our spirits feel at ease, so we open up.
No, this doesn't make me any better than those who feel as if it's just too much to take on others' problems. Trust me, I get it. I understand completely. Self preservation is a must and we're all entitled to it.
Sometimes people annoy me. We get so caught up in trying to teach people lessons like we're God or something. When we have the opportunity to help others, instead of saying I don't want to help you, we pretend as if we care when we really don't. Or we'll say "well they're going to have to figure this out on their own. They need to learn to make better decisions." And, yes, on some occasions we really do need to make better decisions.
However, as I've started my journey of self-discovery, I've learned that it isn't up to us to teach lessons. We're not God or any kind of higher power. I've learned that if I don't want to help a person to just say that. But, what I can say is that there has never been a time when my friend has needed help that I left them hanging, not if I had what they needed. And I never will.
Over the years, I've made new friends and I've lost others. Actually any time I've shown people who I really was, judgement soon follows. They say things like, "oh, she's too extreme" or "she needs to get over her past" or "why doesn't she just do this or do that?" I'm very intuitive and anytime someone I hold close to me is speaking of me in an ill manner, I can feel it. It hurts, but I've gotten used to it.
Last year in 2016, my relationship with three women got stronger. I love these three women to the core of me. Because with them, I feel at home. I've never felt unclean nor have they ever made me feel crazy for showing my true self.
Humans are complicated and I'm finally getting to place where I expect them to show that in complex ways. I'm not sure what 2017 holds, but one thing I know for sure is that I'll no longer allow others to dictate how I see myself. I'll continue to gravitate toward those who see the real me and still love me. Over time, I'll pull away from others. There won't be any hard feelings on my end. It'll just be time for our journey together to come to an end.
All my life, I've been searching for something that hasn't quite found me yet. But I feel it's near. And once it finds me, I'll know my heart is finally at peace, at home.
And I'll know how to nurture it.
I welcome it. I deserve it.